Bloomreach Data Engine
Personalize customer experiences with the Bloomreach Data Engine.
By connecting Bloomreach to existing strategic data investments such as CDPs, data lakes, or data warehouses, you can visualize and activate that data for subsequent adjustments and personalization.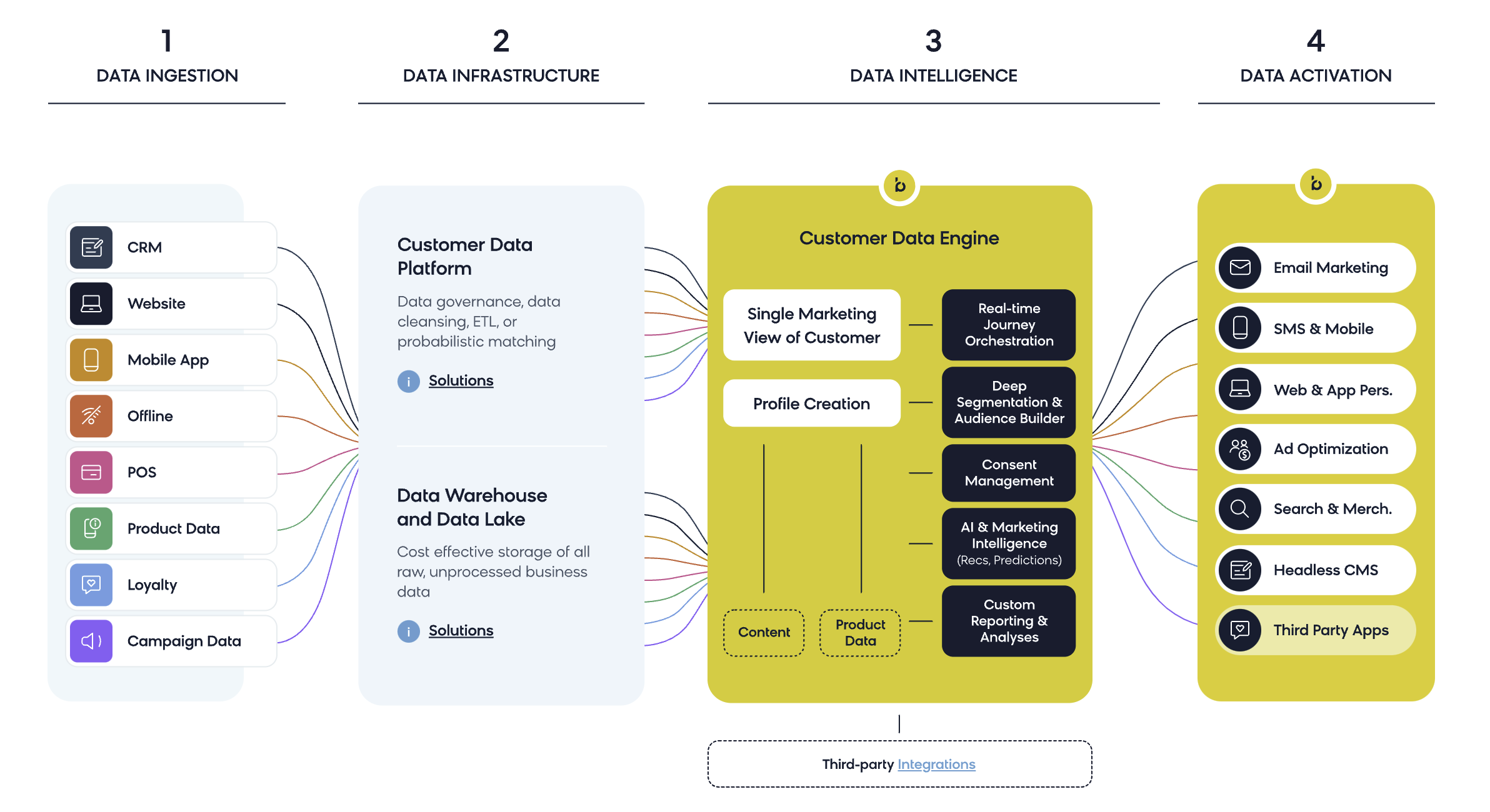 If you're just starting out, our customer data engine comes equipped with built-in data collection and integration capabilities, allowing you to provide a comprehensive marketing view of your customers. This enables you to strategically set up your data in a way that generates maximum value from your omnichannel coordination and personalization efforts.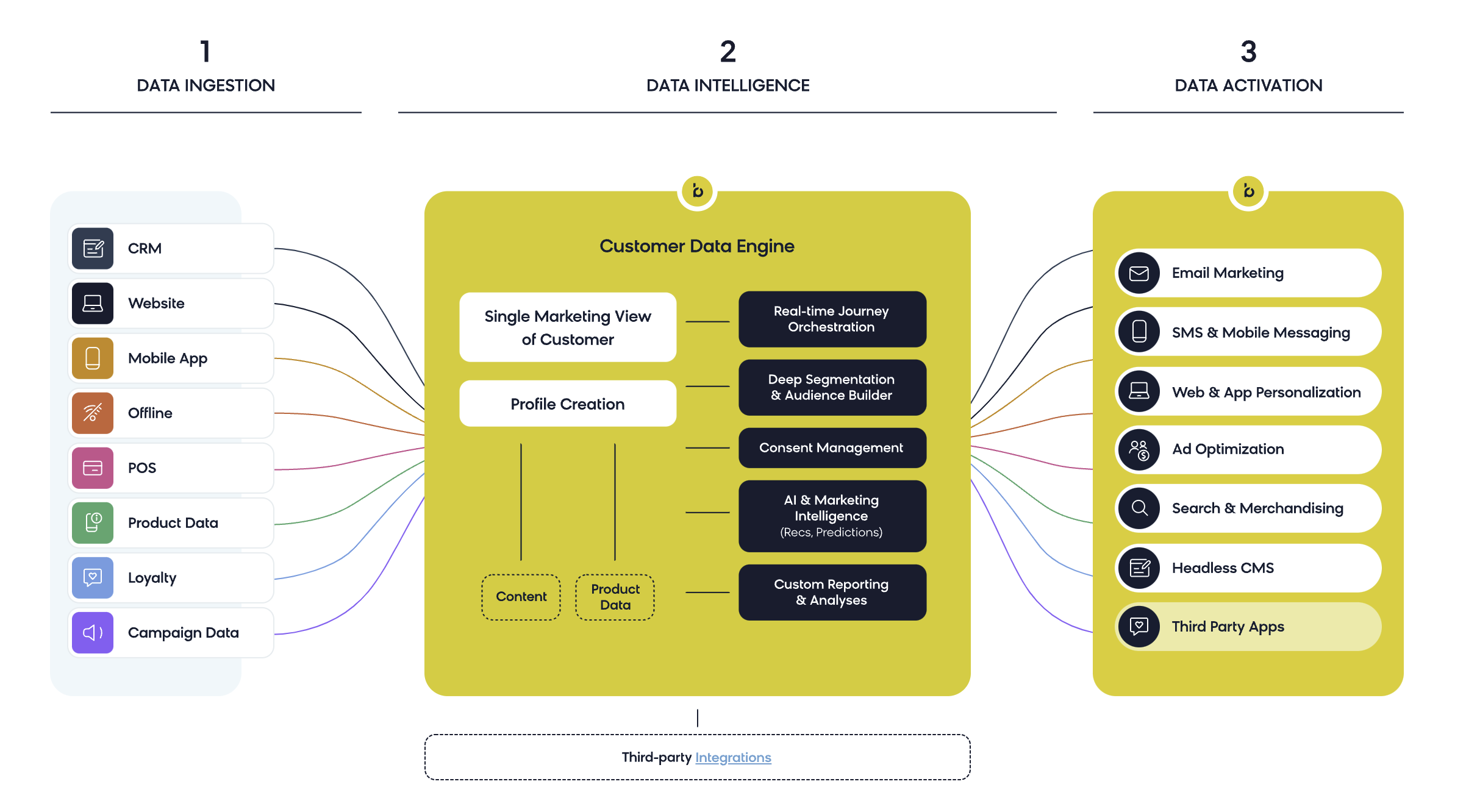 Integrate with other third-party platforms and e-commerce platforms.
Integrate seamlessly with your existing databases, marketing technologies, and e-commerce platforms using our readily available custom integration solutions.
Why is the customer data engine so important?
Gain a comprehensive view of your customers from a singular marketing perspective.
Provide marketing professionals with an intuitive approach to understanding and taking action based on customer data, real-time updates on current interactions, and anticipated future behaviors.
Segmentation and Prospective Customer Builder
Gain deeper insights through user-defined attributes that can be calculated within the platform. Reach highly relevant segments that are always updated in real-time and tightly integrated with marketing channels by using combinations of various customer attributes, enabling customers to receive the right message at the right time.
Real-time Customer Segmentation
Personalize the shopping experience by using real-time customer and product data. Don't rely solely on past data for personalization. Define and build customer segments when they interact with your website. With real-time customer segmentation, provide a more personalized experience even for first-time visitors.
Discover more about the Bloomreach Data Engine
Complete control over data retention

Do not limit the default conversion confirmation period for all events. With Bloomreach Engagement, you have complete control over the amount of data you want to store. You can easily go back as much as you desire without the need to connect to external data sources.
First party cookie tracking solution

Thanks to our proprietary data platform, we can build real relationships with customers without relying on cookies. Through our server-side anonymous identity management, we protect personal information while maintaining data quality and ensuring a consistent experience for returning customers and anonymous visitors.
Integrated analytics, reporting and data visualization

Instantly available dashboards, customized reporting, advanced cohorts, and retention analysis: Our customer data engine includes all the analytical tools necessary for marketing and digital teams to measure campaign performance, gather insights into customer behavior, and report on it. Custom metrics and goals are also supported.
Advanced AI and Marketing Intelligence

Transform your customer experience through real-time product recommendations via email, SMS, or sessions. Gain insights not only from past data but also from your customers' anticipated future behaviors, utilizing both default and custom prediction models.
Information provision consent and messaging cycle management

Manage consent for all channels centrally, define consent categories, and gain a comprehensive overview of consent history. Additionally, dynamically manage messaging frequency based on customer engagement using smart frequency policies.
Security and Compliance

Empower your team with the support they need to create, send, test, and analyze campaigns on a user-friendly, all-in-one platform that ensures compliance and guarantees stability.
Bloomreach live demo request
We're here to help you achieve sales growth.
Discover today why Bloomreach is trusted by over 1,000 customers worldwide to achieve your desired business results. Fill out the form, and we will contact you to schedule a time that suits you best.
In our 45-minute demo, we will provide
Overview of the Bloomreach Content platform and its features


Ways to effectively utilize the platform according to your requirements